Upcoming Events

La musica dei cieli: The life and music of Cardinal Domenico Bartolucci 
Thursday, October 3, 2019 at 6:00 p.m.
Gonda Theatre, Georgetown University
3700 O Street NW, Washington, DC 20057
Please R.S.V.P. here
The Italian Research Institute, in collaboration with Prof. Anthony Del Donna, Program Director & Professor of Musicology, Department of Performing Arts,Georgetown University, the Bartolucci's Foundation, and the Domingo-Cafritz Young Artist Program, is pleased to dedicate an event to Cardinal Domenico Bartolucci, (1917-20130 an incomparable artist, composer, and Director of the Sistine Chapel Choir.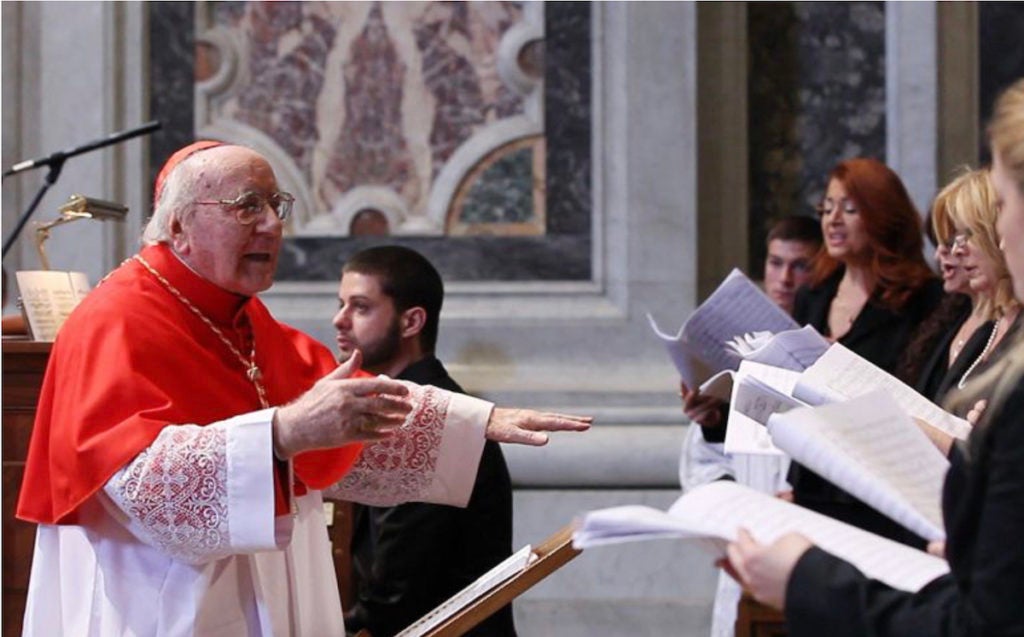 Cardinal Bartolucci began composing at the age of 14. He studied in Rome, was the Maestro in the Florence Cathedral, and in 1956 Pope Pius XII appointed him as the Perpetual Maestro and Director of the Sistine Chapel Choir. Maestro Bartolucci also taught at the Santa Cecilia Conservatory and at the Pontifical Institute of Sacred Music.
He was an extraordinary composer of chamber music, motets, organ music, Masses, and symphonies published in over forty volumes. Maestro Bartolucci also composed Brunellesco, a lyric opera, inspired by his admiration for Brunelleschi, the famous architect who won the competition for the construction of the dome of Santa Maria del Fiore in Florence. The opera will be performed in Florence and in theaters around the world. Cardinal Bartolucci's masterful work as director and composer has been recognized and admired by all the Supreme Pontiffs from Pope Pius XII to Pope Francis.
It is an honor for the Italian Research Institute to present arias from the Brunellesco as well as Cardinal Bartolucci's selected musical pieces.
A singer from Italy, sponsored by the Bartolucci Foundation will join Mr. Joshua Conyers, a baritone from the Domingo-Cafritz Young Artists Program. Mr. Robert Ainsley, the Director of the Domingo-Cafritz Young Artist Program, has graciously offered to be the pianist. The event offers a unique experience to listen and enjoy the music of a great composer.
Featuring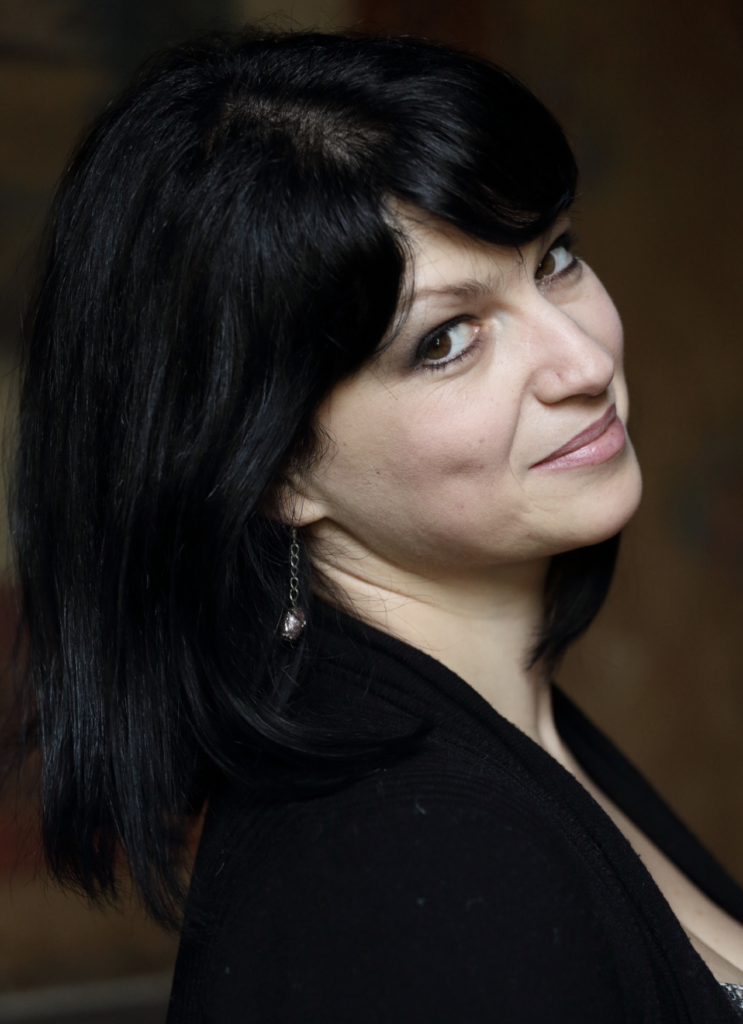 Maria Tomassi
Soprano
Maria Tomassi studied with Stefania Magnifico and graduated from the Conservatory "Alfredo Casella" in L'Aquila (Italy). Later she studied at the National Academy of Santa Cecilia in Rome with Renata Scotto, Cesare Scarton and Silvana Bazzoni Bartoli, simultaneously focusing on the Lieder repertoire with Ulf Bastlein and Stacey Bartsch (University of Music and Performing Arts Graz) and on acting and mime with Michele Monetta (Silvio d'Amico National Academy of Dramatic Arts).
Repertoire
Opera
Serpina in "La Serva Padrona" by G. B. Pergolesi; "Il combattimento di Tancredi e Clorinda" by C. Monteverdi; Donna Anna and Donna Elvira in "Don Giovanni" by W. A. ​​Mozart; Mimì in "La Bohème" by G. Puccini (Teatro del Giglio in Lucca); "The Diary of Nijinsky" by Detlev Glanert (Italian premiere – Cantiere Internazionale d'Arte – 2008); Micaela in "Carmen" by G. Bizet; Fiordiligi in "Così Fan Tutte" and Contessa D'Almaviva in "Le nozze di Figaro" (Seoul Art Center) by W. A. ​​Mozart; Odabella in "Attila" by G. Verdi; Violetta in "La Traviata" by G. Verdi; Tosca, Manon Lescaut (Seoul Art Center) and Suor Angelica by G. Puccini.
Oratorio, Sacred and Chamber Music
Stabat Mater by L. Boccherini; Exultate Jubilate by W.A. ​​Mozart; Stabat Mater by G.B. Pergolesi (opening of the "K Festival" at the Auditorium Parco della Musica in Rome – 2008); Phaedra by B. Britten; La Natività by D. Bartolucci (Florence Cathedral – 2014).
Awards
XXXVI "Toti dal Monte" International Competition; IV Monte Carlo Voice Masters; III "Luciano Neroni" International Opera Singing Competition; Capri Opera Competition; "Ibla Grand Prize" International Competition; "Trofeo La Fenice" International Opera Competition"; "Umberto Giordano" International Opera Competition; "Rolando Nicolosi" International Competition; XII Altamura Caruso International Voice Competition of New York; "Marcella Pobbe" International Opera Competition; Yang Soo Hwa International Competition.
---
Joshua Conyers
Baritone
Domingo-Cafritz Young Artist Program
Baritone Joshua Conyers has been hailed by Opera News with "a deliciously honeyed baritone that would seduce anyone" and The New York Times as having "a sonorous baritone" that "wheedled and seduced." Mr. Conyers, a native of Bronx, NY, is quickly being championed for his captivating performances as he continues to be recognized as one the promising young dramatic voices of today. Equally active in contemporary opera, Mr. Conyers covered the roles of Mr. Umeya in the American premiere of Huang Ruo's Dr. Sun Yat-Sen in Mandarin and Walt Whitman in the world premiere of Theodore Morrison's Oscar, both with the Santa Fe Opera.

Mr. Conyers is a returning member of the Washington National Opera's Domingo-Cafritz Young Artist Program, a program of the John F. Kennedy Center for the Performing Arts for the 2019-2020 season. Joshua Conyers will sing the roles of First Priest in The Magic Flute, John Sorel in The Consul, as well as Jim and Jake (cover) in Porgy and Bess. During the 2018–2019 season he performed the roles of Giorgio Germont in La traviata, British Major in Silent Night, Donkey in The Lion, the Unicorn, and Me, Jason in the world premiere of Matt Boehler's 75 Miles for WNO's American Opera Initiative, and Zaretsky in Eugene Onegin. Joshua performed Le Roi Marc in Frank Martin's Le Vin Herbé, a collaboration with Wolf Trap Opera and Washington Concert Opera. In the summer of 2019, Mr. Conyers will be returning as a Filene Young Artist at Wolf Trap Opera performing Porgy in Gershwin's Porgy and Bess: A Concert of Songs and Ramiro in Maurice Ravel's L'heure espagnole with the National Orchestral Institute. Also, Mr. Conyers will be performing Musiklehrer in Richard Strauss' Ariadne auf Naxos. For the 2017 and 2018 seasons, Mr. Conyers fulfilled his residency as a Benenson Young Artist Program at Palm Beach Opera performing Yamadori in Madama Butterfly, Marullo in Rigoletto, Sciarrone in Tosca, Captain in Candide, and covering the Conte Almaviva in Le nozze di Figaro. Mr. Conyers joined the Glimmerglass Festival in the summer of 2017 covering the roles of Porgy in Porgy and Bess and Eustachio in Donizetti's rarely performed L'assedio di Calais.
As a concert artist, Mr. Conyers made his Carnegie Hall Debut in 2018 as the Baritone Soloist performing Mozart's Regina Cœli, K. 276, Vaughn Williams' Serenade to Music, Beethoven's Choral Fantasy and Mark Hayes' Te Deum under the baton of distinguished composer and arranger Mark Hayes with MidAmerica Productions. Also, Joshua made his debut at The John F. Kennedy Center for the Performing Arts in 2018 as the Baritone Soloist performing Maurice Duruflé Requiem with Manhattan Concert Productions under the baton of conductor Anton Armstrong. In 2019, Mr. Conyers was a Soloist with the National Symphony Orchestra performing with world-renowned Maestro Gianandrea Noseda and singer-songwriter Ben Folds. Also, he was a Guest Artist at Opera Wilmington/UNC Wilmington annual Opera Symposium, in celebration of Caterina Jarboro, in conjunction with Black History Month as a Recitalist and presenting a Masterclass. Mr. Conyers opened the 2017-18 season in a gala performance with the New Jersey Symphony Orchestra. Additional concert and oratorio credits include Bach's St. Matthew Passion, Handel's Messiah, Brahms' Deutsches Requiem, Gabriel Fauré Requiem in D minor, Vaughan Williams' Dona nobis pacem, and Carl Orff's Carmina Burana.

​Mr. Conyers has fulfilled young artist residencies with Palm Beach Opera, Santa Fe Opera, Wolf Trap Opera, Des Moines Metro Opera, Utah Festival Opera and Musical Theater, and the Martina Arroyo Foundation's Prelude to Performance program. His numerous vocal competition and award credits include Metropolitan Opera National Council District Winner (2010, 2011 & 2015), Metropolitan Opera National Council Regional Encouragement Award Winner, Catherine Filene Shouse Career Grant Award Winner, Annapolis Opera Top Prize Winner,Career Bridges Grant Award Winner, S. Livingston Mather Scholar Competition Top Prize Winner, the Charlotte Opera Guild Competition Top Prize Winner, and the Heafner/Williams Vocal Competition Top Prize Winner.
---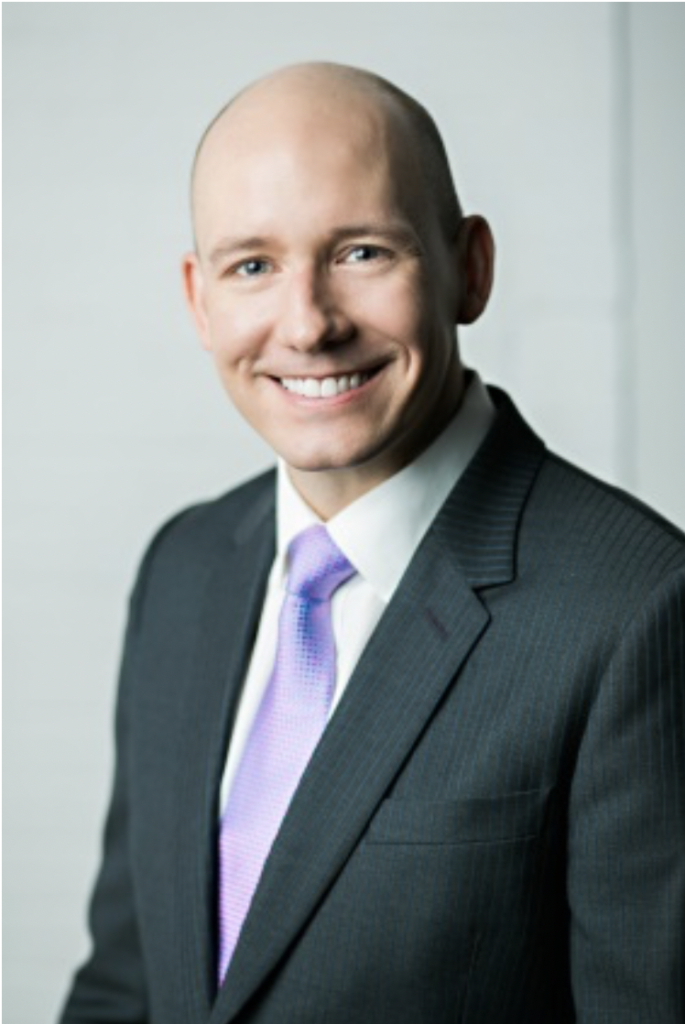 Robert Ainsley
Director and Pianist
Domingo-Cafritz Young Artist Program
Active as an opera fanatic and factotum since 2001, Rob Ainsley has explored every facet of the art form across the country, and lives to pass on his enthusiasm to others. He is an alumnus of the University of Cambridge, Mannes College of Music, and the Lindemann Young Artist Development Program at the Metropolitan Opera. Since then, he has been Co-founder and Principal Conductor of the Greenwich Music Festival, a guest Chorus Master at English National Opera, Associate Music Director at Portland Opera, Head of Music Staff and Chorus Master at Minnesota Opera and Opera Theatre of Saint Louis, and a faculty member at Westminster Choir College's CoOPERAtive Program.
He is now the Director of the Washington National Opera's Domingo-Cafritz Young Artist Program and the American Opera Initiative, seeking out and grooming the finest young American singers, composers, and librettists for international careers. His artists have performed on the world's leading stages, won the Metropolitan Opera National Council auditions, been finalists in Operalia, and performed with him at the 2018 White House State Dinner for the President of France. He has conducted his own realizations of seventeenth-century operas, collaborated on a string of world premieres, raved about art song in recital series of his own creation, and lectured on everything from Adams to Zemlinsky. Through it all, he has inspired hundreds of young artists and thousands of audience members to share his passion, and prides himself on the friendships he has formed along the way.
---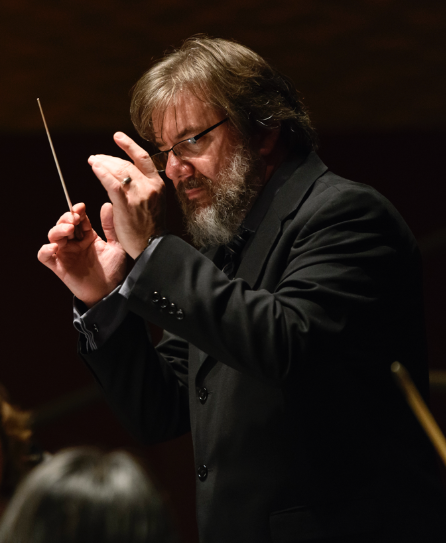 Frederick A. Binkholder
Professor of the Practice
Director of Choral Studies
Department of Performing Arts
Georgetown University
Frederick Binkholder is beginning his second decade of teaching at Georgetown University. He serves as Professor of Practice for the Department of Performing Arts where he is the Director of Choral Studies and private voice instructor. The Concert Choir under his direction recently presented the world premiere of the 1964 Cantata Simon Bore the Cross by Margaret Bonds at the Kennedy Center. In the spring of 2020, the Chamber Singers will be returning to perform at the International Music Festival of Baroque and Renaissance Music in Santa Cruz, Bolivia. Frederick is also the Artistic Director and Conductor of the Capitol Hill Chorale. Through his work with the Chorale, he was presented the Alice Parker ASCAP award for Adventurous Programming of Contemporary Music by Chorus America in June of 2018 at their National Convention. His areas of study and research include the polyphony of the early church, baroque choral music of the Jesuit Bolivian reductions, Georgian Orthodox sacred chant, Sacred Harp hymnody and the compositions of American composers Margaret Bonds and Kevin Seigfreid.
---
Moderator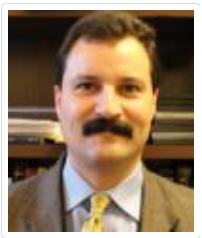 Anthony DelDonna
Professor of Musicology
Director of the Music Program
Georgetown University
Anthony R. DelDonna, Ph.D. is Professor of Musicology and Director of the Music Program at Georgetown University. His research focuses on early modern Italy, in particular the dramatic stage (opera, oratorio, cantata), instrumental music, archival studies, performance practice and ballet. Prof. DelDonna's research has been published in peer-reviewed journals such as The Journal of Musicology, Acta Musicologica, Quaderni d'Italianistica, Eighteenth-Century Studies, Early Music, Eighteenth-Century Music, Recercare, Studi musicali and Civiltà musicale as well as numerous essays in scholarly volumes dedicated to the eighteenth century. DelDonna is the author of the monograph Opera, Theatrical Culture and Society in Late Eighteenth-Century Naplespublished by Ashgate Press (2012); co-editor of The Cambridge Companion to Eighteenth-Century Opera(Cambridge: Cambridge University Press, 2009); co-editor of Music as Cultural Mission: Explorations of Jesuit Practices in Italy and North America(St. Joseph University Press, 2014; with Anna Harwell Celenza) and editor for Genre and Music in the 18th century(Ann Arbor: Steglein Press, 2008). His critical edition of the oratorio Trionfo per l'Assunzione della Santissima Vergineis published by Fondazione Arcadia (LIM, 2015). Prof. DelDonna's forthcoming publications include the critical edition of the opera, Il zelo animato ovvero Il Gran Profeta Elia (1733) by Francesco Mancini(Società editrice di musicologia) and the monograph Instrumental Music in Late Eighteenth-Century Naples: Politics, Patronage and Artistic Culture(Cambridge University Press, Forthcoming, 2020).
---
Artificial Intelligence
Tuesday, November 5, 2019 at 6:00 p.m.
Intercultural Center Auditorium, Georgetown University
3700 O Street NW, Washington, DC 20057
Speakers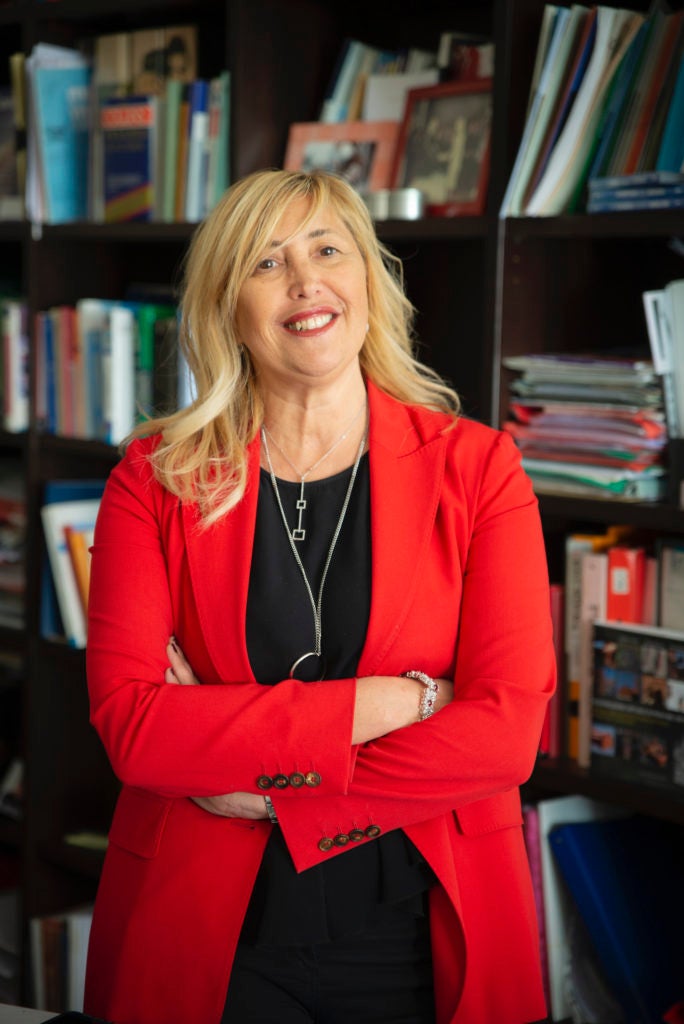 Dr. Rita Cucchiara
Professor of Engineering
University of Modena and Reggio Emilia
Rita Cucchiara (Electronic Engineering Degree, 1989 – Phd in Computer Engineering at University of Bologna, 1993) is Full Professor at the University of Modena and Reggio Emilia in the Department of Engineering "Enzo Ferrari", since 2005. She heads the AImage Lab (www.aimagelab.unimore.it), gathering 25 researchers, working in different research fields of Artificial Intelligence such as Computer Vision, Pattern Recognition, Deep Learning and Multimedia, as well as surveillance, automotive and robot-human interaction. She heads the co-funded RedVision Lab with Ferrari.
Currently, she is the Director of the CINI National Laboratory of Artificial Intelligence and Intelligent Systems (Lab AIIS), with the endorsement of the Italian Presidency of Minister Council. She is a member of the Board of Directors of the Italian Institute of Technology.
She was President of the Italian Association CVPL, Italian Chapter of IAPR from 2016 to 2018; she is IAPR Fellow since 2006 and in 2018 she has been awarded of the "Maria Petrou" for "outstanding research in Pattern recognition and Video Surveillance". Published more than 400 papers, keynote speaker in many conferences, recently IROS 2018, H-index 47 (Google scholar). Has been program chair of ICCV2017, area Chair of NeurIPS 2018,2019, General Chair of next ICPR2020, ACMMM2020 and ECCV2022.
---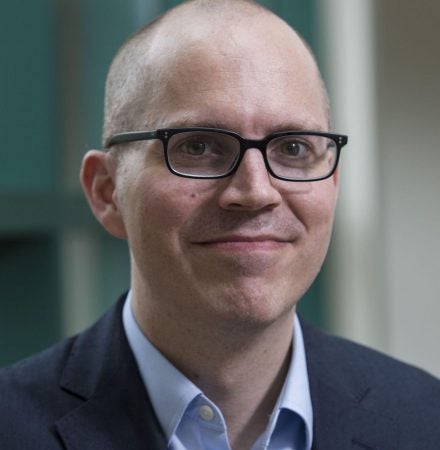 Dr. Jason Matheny
Director
Center for Security & Emerging Technology
Georgetown University
Jason Matheny is founding director of Georgetown's Center for Security and Emerging Technology. Previously he was Assistant Director of National Intelligence, and Director of IARPA, responsible for the development of breakthrough technologies for the U.S. intelligence community. Before IARPA, he worked at Oxford University, the World Bank, the Applied Physics Laboratory, the Center for Biosecurity, and Princeton University, and was the co-founder of two biotechnology companies. He is a member of the National Security Commission on Artificial Intelligence and the National Academies' Intelligence Community Studies Board; is a recipient of the Intelligence Community's Award for Individual Achievement in Science and Technology, the National Intelligence Superior Service Medal, and the Presidential Early Career Award for Scientists and Engineers; and was named one of Foreign Policy's "Top 50 Global Thinkers." He has served on various White House committees related to artificial intelligence, biosecurity, high-performance computing, and quantum information science. He co-led the National AI R&D Strategic Plan released by the White House in 2016 and was a member of the White House Select Committee on AI, created in 2018. He holds a Ph.D. in applied economics from Johns Hopkins University, an MPH from Johns Hopkins University, an MBA from Duke University and a B.A. from the University of Chicago.
---
Moderator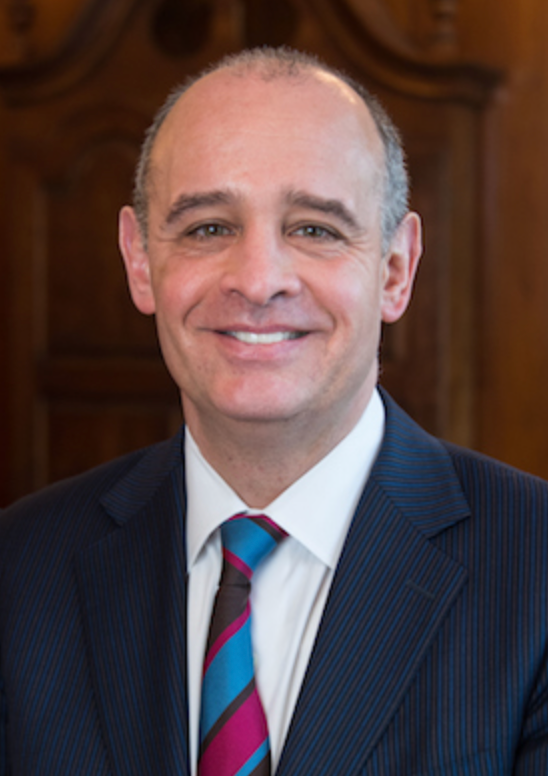 Christopher S. Celenza, Ph.D., Dr.phil.
Dean of Georgetown College
Professor, History and Classics
Georgetown University
Christopher S. Celenza is Dean of Georgetown College at Georgetown University, where he is also professor of History and Classics. Previously, he served as Vice Provost for Faculty Affairs at Johns Hopkins University, where he held the Charles Homer Haskins Professorship. At Johns Hopkins he also served a Vice Dean for Humanities and Social Sciences. He served as the 21st Director of the American Academy in Rome from 2010-14.
Celenza holds two doctoral degrees, a PhD in History (Duke University, 1995) and a DrPhil in Classics and Neo-Latin Literature (University of Hamburg, 2001). He is the author or editor of ten books and over forty scholarly articles in the fields of Italian Renaissance history, post-classical Latin literature and philosophy, and the history of classical scholarship.
An Italian translation of his book, The Lost Italian Renaissance, appeared with the publisher Carocci in 2014. His most recent books are The Intellectual World of the Italian Renaissance: Language, Philosophy, and the Search for Meaning (Cambridge and New York: Cambridge University Press, 2018); Petrarch: Everywhere a Wanderer (London: Reaktion, 2017); and Machiavelli: A Portrait(Cambridge, Mass.: Harvard University Press, 2015).
He has held Fellowships from the Guggenheim Foundation, the ACLS, Villa I Tatti, the American Academy in Rome, and the Fulbright Foundation
---
A Healthy Life: Prevention and Control
Tuesday, November 19, 2019 at 6:00 p.m.
Intercultural Center Auditorium
Georgetown University
3700 O Street NW, Washington DC 20057
Speaker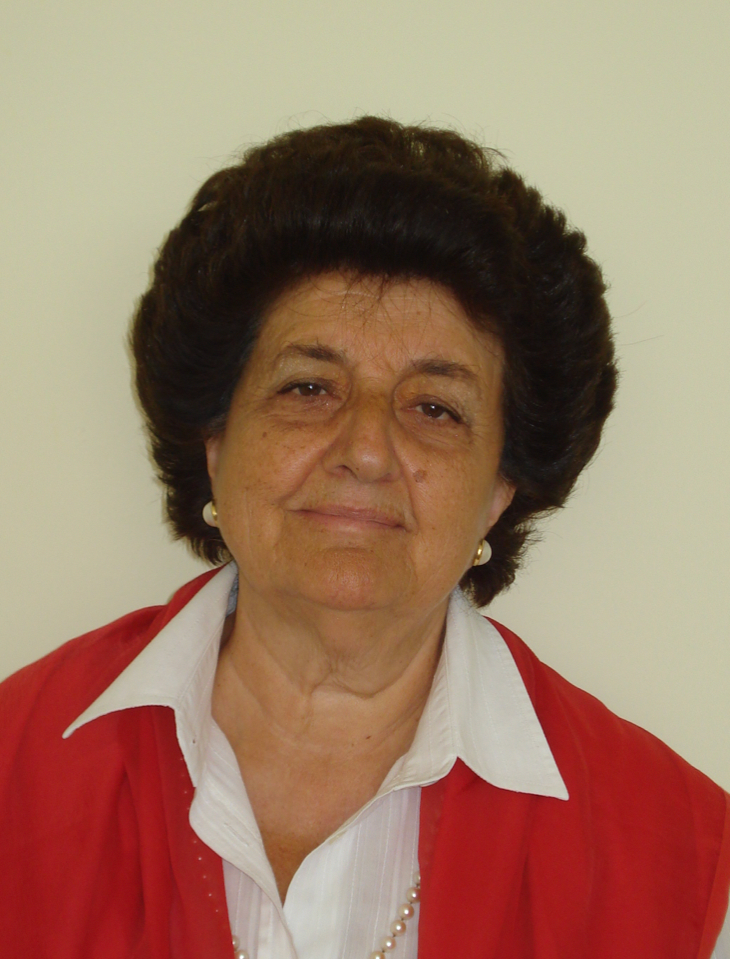 Dr. Maria Benedetta Donati, M.D. Ph.D
Head of the Laboratory of Translation Medicine and of the Neuromed Biobanking Center, Department of Epidemiology and Prevention, IRCCS Neuromed, Pozzilli, Isernia.
MD Degree with the Highest distinction (1968, Catholic University, Rome) specialization in Clinical and Laboratory Hematology (1971 same University), Ph.D. in Hemostasis Physiopathology (1973, University of Leuven, Belgium), Honoris Causa MD from two Universities (Byalistok, Poland and Debrecen, Hungary), Special Mention "For Women in Science" (UNESCO-L'Oréal, Paris 2002), "100 Women Scientists " (Fondazione Bracco, Milano 2016); "Top Italian Women Scientists", ONDA, Milano 2016.
She has devoted her scientific research to the investigation of thrombosis, the process which leads to the obstruction of blood vessels and may cause major disorders such as myocardial infarction and stroke; in particular, during the first part of her scientific activity at Mario Negri Institute in Milan and subsequently at Mario Negri Sud in the Abruzzo Region, she has pioneered studies on thrombosis and cancer and on the treatment of some tumor types with anticoagulant drugs; in 1993 she launched the First International Group devoted to "Hemostasis and Malignancy" (within the International Society for Hemostasis and Thrombosis). More recently she studied the interaction between genetic and environmental factors as determinants of cardiovascular risk, and discovered, together with Licia Iacoviello, the presence of a genetic variant of a clotting factor which would protect 20% of the Italian population from myocardial infarction.
In 2005 she was a founder and is a Member of the Steering Committee of the Moli-sani study,an ongoing epidemiological prospective project on nearly 25,000 adults living in the Molise Region. The aim is to analyse risk or protective factors of chronic degenerative diseases (CV disease, cancer, neurodegenerative disease) and to substantiate the beneficial effects of the Mediterranean Diet on health and quality of life.
More than 64,000 citations, H. Index: 93. She is included in the top 4% of the 1,649 most cited Italian biomedical investigators.
Five selected publications
Circulating Tissue Factor Levels and Risk of Stroke: Findings from the EPICOR Study.
Iacoviello L1, Di Castelnuovo A2, de Curtis A2, Agnoli C2, Frasca G2, Mattiello A2, Matullo G2, Ricceri F2, Sacerdote C2, Grioni S2, Tumino R2, Napoleone E2, Lorenzet R2, de Gaetano G2, Panico S2, Donati MB2.
Stroke. 2015 Jun;46(6):1501-7. doi:10.1161/STROKEAHA.115.008678.