2013 Events Archive
Symposium Dedicated to the Field of Medicine
Friday, December 13, 2013
Italian Embassy, Washington, D.C.
On Friday, December 13, 2013, the Georgetown University Italian Research Institute was inaugurated at the Italian Embassy with a co-sponsored symposium dedicated to the field of medicine. "I am not my body. I am my mind. Foresight in medicine: research induced society changes in the next decade." In memory of Rita Levi Montalcini, 1986 Nobel Prize Laureate in Medicine, The Institute sponsored the following speakers: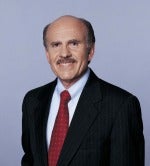 Dr. Louis Ignarro
Nobel Prize Laureate 1998
A graduate of Columbia University and the University of Minneapolis in Pharmacology Dr. Louis Ignarro recently retired as a distinguished professor of pharmacology in the Department of Molecular and Medical Pharmacology at the UCLA School of Medicine. His research contributions culminated with the highest recognition, the Nobel Prize in Physiology or Medicine in 1998 for nitric oxide as a signaling molecule in the cardiovascular system.
In his speech, Dr. Ignarro summarized the biomedical field of nitric oxide (NO) research that started in the 1970s. In the late 1970s, NO gas was accidentally discovered to activate an enzyme termed guanylate cyclase, which causes the production of cyclic GMP (a known intracellular signaling molecule). Subsequent experiments where NO was added to cells and tissues revealed that the increase in cyclic GMP was associated with smooth muscle relaxation, such as vasodilation. The hypothesis was forwarded that the popular vasodilator drug termed nitroglycerin might work by being metabolized to NO.
The mechanism of action of nitroglycerin had been a mystery for over 100 years. Experiments showed that, indeed, nitroglycerin is metabolized to NO in arteries, and NO is the active vasodilator principal in nitroglycerin. In view of the extreme potency of NO as a vasodilator, the hypothesis was forwarded that NO might exist endogenously, that is, within mammalian cells. After 4-years of intensive research, NO was found to be produced in arteries and veins. This was the first demonstration that NO is produced by mammalian cells. Moreover, this was the first demonstration that a gaseous molecule could serve as a signaling molecule.
This discovery opened the door to a new approach to developing drugs to treat high blood pressure, stroke, and heart attacks.  Many new discoveries have been made by many different laboratories revealing the multitude of actions of NO in various organ systems, and this will likely lead to the development of new drugs to treat numerous disorders such as glaucoma, urinary incontinence, diabetes, dementia, and irritable bowel syndrome.
---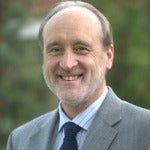 Dr. Robert Clarke
Georgetown University Medical School
Robert Clarke, Ph.D., D.Sc., Dean for Research at Georgetown University Medical Center discussed, "Personalized Medicine: Changing the Landscape of Medicine." He addressed three aspects of personalized medicine: systems medicine structure, its translational nature, and how it is technology driven. He also highlighted the innovative cellular reprogramming technology, dubbed the "Georgetown Method," which allows investigators to grow normal and cancer cells in a completely new way. This method changes how we might achieve personalized therapies and conduct research in regenerative medicine, cancer, and many other fields.
Dr. Clarke overviewed the technical, societal, and ethical challenges faced as stakeholders pursue personalized medicine. Technical challenges include managing big data, training researchers and clinicians, working with government regulatory bodies, and ensuring that personalized medicine can be delivered to all, not just the wealthy. Societal challenges vary from understanding if private (e.g., US) versus universal health (e.g., UK) care systems will respond differently to determine if the contents and delivery modalities of health services will change. Additionally, major changes in culture may occur such as the shift from treatment to a stronger focus on prevention or a greater focus on mental health. Finally, ethical challenges address who owns the personalized data and who has what rights to use and/or access the information. Ways must be identified to maintain the equity of access, services, and delivery to all individuals as well as determining how to manage known modifiable and non-modifiable risks.

---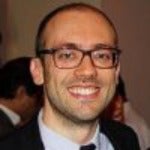 Dr. Lorenzo Falchi
Yale Medical Center
Dr. Lorenzo Falchi completed his medical school and training in medical oncology at the University of Perugia, Italy. In 2011 he joined MD Anderson Cancer Center (MDACC), where he completed a Postdoctoral Fellowship in the Department of Leukemia. More recently, he has focused his research on chronic lymphocytic leukemia (CLL) and chronic myeloid leukemia (CML). He has authored and co-authored multiple peer-reviewed papers and is currently at Yale Medical Center.
In his presentation, Dr. Falchi spoke of his research on outcomes of African American patients diagnosed with chronic lymphocytic leukemia (CLL), a blood cancer. The studies reveal that they fare less well compared to their Caucasian counterparts even when given similar treatments. While scientists are investigating the potential influence of race on specific genetic characteristics, the issue of impaired access to healthcare in people belonging to minorities will become ineludible.
Patients diagnosed with CLL also show an increased incidence of other cancers, particularly if they are younger than 65 years and are receiving treatment for their leukemia. CLL, like many other cancers, has an indolent course and patients can live many years with their disease. With better drugs and treatment strategies, this patient population will only grow in the future; therefore, the development of new or improvement of existing screening and preventive strategies will be critical.
Tyrosine kinase inhibitors, a class of drugs used for the treatment of chronic myeloid leukemia (CML), another blood cancer, have been the paradigm of the "Magic Bullet" in cancer therapy. A once invariably fatal disease has been transformed into a chronic condition with the great majority of patients alive and disease-free after many years of therapy. Presently, there is no indication to stop treatment even when the leukemia is no longer detectable in the blood. As a consequence, the number of patients receiving these expensive medications is growing exponentially which requires the scientific community, the regulatory authorities, and the pharmaceutical industry to engage in a serious discussion regarding the criteria and pricing of new effective, but expensive cancer drugs.